This was my fault! I couldn't run after anyone else and threaten their existence, it was my doing! Only three days after this beautiful, beige carpet was installed in our new home, I knocked over a glass of Pinot Noir (a seriously RED WINE)! The only good thing was that it was in the corner and wasn't in the center of the room!
I ran out and purchased some woolite carpet cleaner and guess what? I didn't work. I then took my camera with the picture to Home Depot and got some Resolve cleaner. It was supposed to be the best according the home depot helper. So I tried that. Twice. It turned the stain brown, but it was even darker.
So I thought I'd try to use a peroxide based oxy/enzyme cleaner from Shaklee called Nature Bright. I took a before picture, because I thought, if this works, it'll just be too good to be true!
So here's the before pic:
And after the first try, it got a LOT lighter, and without bleaching out the beige color of my carpet too! I was stoked! I tried it one more time and viola!
Here's the after pic: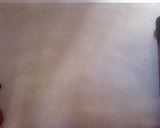 It's a miracle! I had to show everyone and their mother! I can't believe a natural, earth friendly, human friendly product could get out that stain AND…. it was an entire YEAR later!
If you want any of this great stuff, (it's great for many other things too!) a whole bag lasts a really long time
CLICK HERE
. I use it in the laundry, to whiten my tub and sinks, literally on every stain. I'm in love!
There are other great tips and ideas on our website at
http://www.kadabaco.com/
and order it from there, or email me!